Hello, Everyone,
I've been trying to figure out what makes one book sell while another doesn't. Let me explain what I mean. I published three books on October 31 of 2014. You heard right— on Halloween of last year. I chose that date because one of my books…. Oh, snap! I forgot to mention the titles of my novels. They are SAFE HAVEN, OLD MAN PETERSON, murder it's all in the family and I'M YOUR BABY TONIGHT but what about tomorrow? Anyway, I chose All Hallows Eve to release my books like so many caged ravens because one of my books, I'M YOUR BABY TONIGHT, has an erotic, Halloween-themed masquerade ball in it.
My first cover for I'M YOUR BABY TONIGHT had a busy Halloween-themed cover. The book barely sold. I knew my writing was good, but who would know that if the cover made readers pass on my book? Let's see if I can dig up a copy of that cover? I frankly loved that cover, but when I posted on a site that reviews book covers, they didn't. They asked me, "What do babies have to do with pumpkins, cigars, and guns?" They recommended that I shouldn't combine the three on a book cover if I wanted to sell romance books. I thought long and hard about their viewpoint. I had just paid a designer to create that cover, so I wasn't so sure I wanted to pay for a total redesign.
Publishing my books had always been a dream of mine. It was always "when I retire, I'm publishing all 52 of the books I wrote or am writing." It would give me something to do when I retired. "No. Don't publish it now. Wait until I retire. Oh, oh this idea fascinates me. I think I'll write about it. Nope. Wait until I retire." So anyway, back to All Hallows Eve and my book covers. I decided to do it right, as my grandmother used to say. "If you're gonna do something, do it right." I pulled that book off the market for a minute while I came up with other ideas for the book cover. I like dark stuff, so my cover was dark.
Here; I'll show you what I mean. Here's the old cover for I'M YOUR BABY TONIGHT, but what about tomorrow? Did you notice the pumpkin with the cigar, the gun, the dolls, and the dancers? The old book covers didn't have a subtitle either. After watching some free marketing videos on YouTube about Amazon's algorithms and the way Google search works, I added a subtitle to my revised book cover. I tried to use words in the subtitle that would tell readers something more about my book. It didn't work so well with this book, but it did with OLD MAN PETERSON.
Below are the two originals that I had to choose from. I chose the darker of the two covers, the one on the right.
Below is the newly revised book cover that I went with after the first book cover ( the one on the right which I loved so much) didn't sell.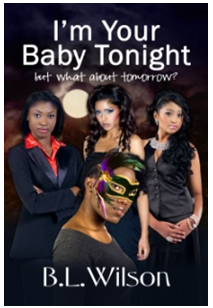 I believe that this new book cover, which I absolutely love too, improved my book sales. The book did sell, but not as well I thought it would, so I reduced the price to 99 cents. The book hasn't sold like hot cakes but it's doing fairly well. For me, as a brand new author, I think it's phenomenal that people are buying and reviewing my books.
Take a look at OLD MAN PETERSON's before and after book covers. Yep, I did the same thing with that book too. Submited it to book cover reviewers. They suggested the skelton didn't make sense if it wasn't a horror story, but a romantic mystery novel. Some of my readers say my novel is actually an erotic thriller. Either way, the orginal cover didn't fit the contents.
Here is the original on the left and the revised cover on the right. http://amzn.to/1uqEIMy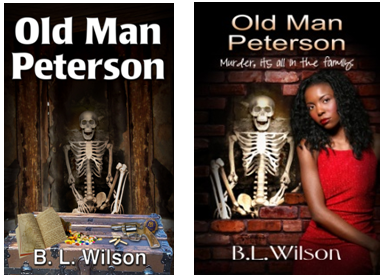 So, let's get back to my original premise. What makes one book sell and another not? It's because of the cover, since it is the first thing a reader sees. Take my bestselling book, SAFE HAVEN. Its look is completely different from I'M YOUR BABY TONIGHT or OLD MAN PETERSON. Both of those books have dark covers. I admit that I categorically love me some dark book covers, dark coffee, dark clothes, and dark women folk. I can't help myself; I just do. When I first saw SAFE HAVEN's book cover, I wasn't crazy about it, but it grew on me. My readers loved it because they bought enough books to make me the #1 bestselling in my genre of African American mystery, thrillers, and suspense fiction.
Here's the cover that won me Amazon sales.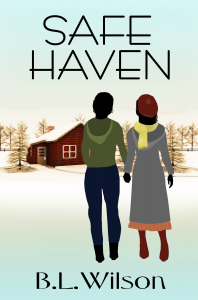 I know what you're thinking. That this book cover is so simple, right? That's right, there's nothing sophisticated about this novel's book cover at all. It doesn't have a subtitle. The colors are light and airy. The two women are in silhouette format. I'm beginning to understand the book cover formula: Keep it simple, stupid. I would add, "Keep it simple and light, stupid!"
And so, with fingers crossed, I'm going to show you the covers of my two novels that aren't published yet. The novels are BUILDINGS, a New York love story and SECOND CHANCES, at love and murder? Notice how they aren't dark and the women aren't in silhouette, but I suspect that won't matter. The women are adorable, don't you think? Since both books do have subtitles, I'm hoping that will make it easier for readers find them. They will be available on Amazon.com for pre-order soon and for purchase on All Hearts Day 2/14/15.
Here they are. Tell me what you think. Please LIKE this article on FACEBOOK http://on.fb.me/1zvTAcl.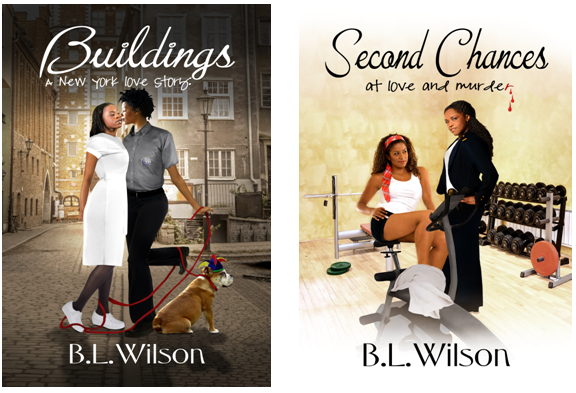 Did I mention all but two of the book covers were designed by LL Pix Design www.llpix.com
The first cover for I'm your baby tonight (cover without the cat) and the first cover for Old Man Peterson (cover with skeleton alone) were designed by www.Caligraphicsdesign.com