The Ideal Man Is A Woman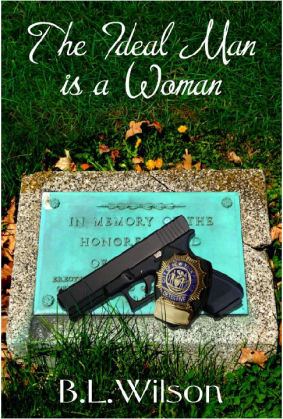 When Henry Braxton, a wealthy, womanizing, divorced Black man is brutally murdered, the primary detective, Alexia Carson, is overwhelmed with suspects. There's the attractive younger sister who loves her brother but disagrees with his treatment of his wife and child. Then there's his first wife, who loves the victim but can't forgive his numerous and very public affairs during their marriage. Another suspect is his lesbian daughter who has always had a love-hate relationship with Henry. Finally, there are the six members of his company's board that he had affairs with or insulted during their terms of office.
Most of the people in Henry Braxton's life have the potential to be suspects. It's up to Alexia, just coming off a nine-month medical leave from a severe back injury, and her partner, who is married her cousin, to sort out the suspects and determine who did the dastardly deed. When a budding attraction between Sarah, the victim's sister, and Alexia develops, combined with the fact that one of the suspect board members is Alexia's ex-lover, it is one tangled web of secrets and intrigue…
The Ideal Man Is A Woman is available for pre-order 8/19/18. The release date is 9/2/18.
ASIN: B07GN186LQ (Kindle Version $2.99)
ISBN-13: 978-1725520127 (Print Version $9.99)
ISBN-10: 1725520125 (Print Version $9.99)
Here are the links for: The Ideal Man Is A Woman:
Amazon Kindle USA: http://www.amazon.com/gp/product/B07GN186LQ
Amazon Kindle UK: http://www.amazon.co.uk/gp/product/B07GN186LQ
Createspace: https://www.createspace.com/8985545
Smashwords: https://www.smashwords.com/books/view/890331
Book Trailer: https://youtu.be/6xt5xb2RVZU
Ask David: http://askdavid.com/reviews/book/lesbian-suspense/16423
Connect with BL Wilson at these links:
Blog: http://wilsonbluez.com
Facebook Business Page: https://www.facebook.com/patchworkbluezpress
Goodreads: http://bit.ly/1BDmrjJ
Linked-in: http://linkd.in/1ui0iRu
Twitter: http://bit.ly/11fAPxR
Amazon author page: http://amzn.to/1y7Ncar
Smashwords Interview page: http://bit.ly/1sUKQYP
Smashwords Author Page: http://bit.ly/1tY3e27

Most popular, Worth a look, Must read, Related posts, What the experts say, Q & A