Me & Mrs. Jones, a love story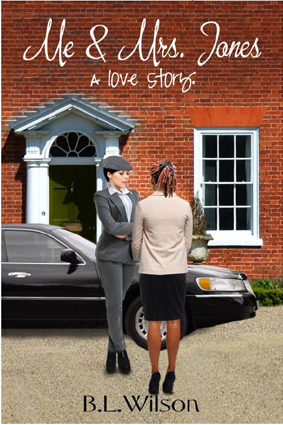 Wealthy married Black woman, Vernella Burton-Jones, has been suffering verbal and sometimes physical abuse at the hands of her wife Frances for years. The clincher occurs when Vernella discovers that Frances is cheating on her and embezzling from the company Vernella's father built up from the ground. Vernella feels helpless to stop this cycle of bullying and abuse, until she meets Clementine.
Clementine Rogers is a young, white female driver and sometime street fighter applying for what seems to be an ideal job. However, when she witnesses her potential employer's wife abusing her and intervenes, she wants to do more to protect Vernella, but isn't sure her attractive new boss will appreciate her interference.
Can Vernella take steps to prevent more abuse and keep Frances from robbing her blind? Will she accept Clementine's help in protecting her? Can two women with completely dissimilar backgrounds allow their attraction for each other overcome many obstacles? Find out in Me and Mrs. Jones, a love story.
Me and Mrs. Jones, a love story is available now on Kindle.
Here are the links for: Me and Mrs. Jones, a love story
Kindle: http://www.amazon.com/gp/product/B07PNVXCSN
Kindle Print: https://www.amazon.com/dp/9781798762455
Smashwords: https://www.smashwords.com/books/view/928927
Book trailer: https://youtu.be/Hv8hKOl7zTU
Ask David: http://askdavid.com/reviews/book/lesbian-romance/16955
Connect with BL Wilson at these links:
Blog: http://wilsonbluez.com
Facebook Business Page: https://www.facebook.com/patchworkbluezpress
Goodreads: http://bit.ly/1BDmrjJ
Linked-in: http://linkd.in/1ui0iRu
Twitter: http://bit.ly/11fAPxR
Smashwords profile page: http://bit.ly/1sUKQYP
Amazon's Author Page: http://bit.ly/1tY3e27
Recent Posts
Most popular, Worth a look, Must read, Related posts, What the experts say, Q & A