THE GUARDIAN & HER CAPTAIN, Agatha & Bonnie, a story of hate and love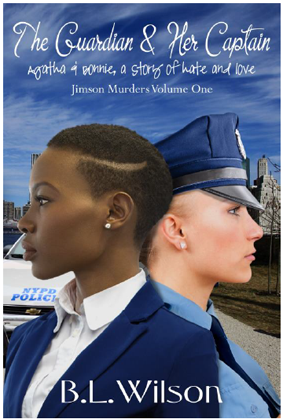 In The Guardian & Her Captain…, Dr. Sophie Jimson delivers a young woman's baby in the rear of a taxi. Shortly after, the doctor is murdered by a phantom man that witnesses can't describe. The Phantom, with the newborn in his arms, escapes, but an off-duty policewoman, Lieutenant Agatha Crist, grabs the baby from him. The baby is returned to the mother and the policewoman is hailed as a hero for rescuing the child.
Agatha soon finds out that Dr. Jimson happens to be her fraternal twin. They were supposed to meet for the first time to end their lifelong estrangement. Agatha is distraught and insists on being part of the murder investigation team, despite her captain's objections. As the investigation proceeds, it becomes clear the lieutenant needs as much protection as the new mother. The lieutenant's supervisor, Captain Bonnie Smyth, steps into the case to protect both women. As the two women bump heads, sparks fly. Will they fall in love or continue the hatred they've been exposed to for generations?
ASIN: B08D3WLFZ8 (Kindle Version $2.99)
ASIN: B08CMF2CSR (Print Version $11.99)
The Guardian & Her Captain: Agatha & Bonnie, a story of hate and love, (Jimson Murders Volume1), was available for pre-order 7/16/20 on Kindle and Smashwords. The release date was 8/2/20.
Here are the links for: The Guardian & Her Captain: Agatha & Bonnie, a story of hate and love:
Kindle: http://www.amazon.com/gp/product/B08D3WLFZ8
Print: http://www.amazon.com/gp/product/B08CMF2CSR
Kindle UK: http://www.amazon.co.uk/gp/product/B08D3WLFZ8
Smashwords: https://www.smashwords.com/books/view/1033283
Book Trailer: https://youtu.be/L4OCCtnDmEk
Ask David: http://askdavid.com/reviews/book/lesbian-murder-mystery/18078
Connect with BL Wilson at these links:
Blog: https://wilsonbluez.com
FB Page: https://www.facebook.com/patchworkbluezpress
Goodreads: http://bit.ly/1BDmrjJ
Twitter: http://bit.ly/11fAPxR
Amazon Author Page: https://www.amazon.com/-/e/B002BOJ19O
Smashwords Profile Page: http://bit.ly/1sUKQYP
Smashwords Author Page: http://bit.ly/1tY3e27

Recent Posts
Most popular, Worth a look, Must read, Related posts, What the experts say, Q & A