LOVE THE 1 YOU'RE WITH?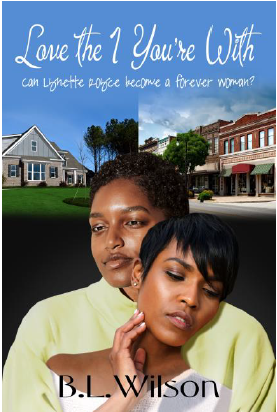 Lynette Royce, from Two Moons Bakery & Get Reckless, can't find the right woman. She keeps breaking up with good women because she can't control her adulterous ways. In bed, one woman looks as good as the next one, until she bumps heads with a homeless army vet.
Fabian Moody is a newly hired cab driver trying to return Lynette's lost wallet and ID. Words are exchanged, tensions rise, and miscommunication reaches its peak.
In a rage, Lynette sprays Fabian with a cheap version of pepper spray that contains poisonous chemicals, making everybody within ten yards seriously ill. During their hospital stay in a shared room, they can't get enough of each other, feeling an attraction they cannot get under control, causing the two women to fight like cats and dogs.
Once released, their attraction-detraction game continues, prompting Fabian to get cold feet and literally run away. Will the two very opposite women be able to overcome obvious differences and see each other in a different light?
Love the 1 You're With? is the ninth book in the Forever Woman series, featuring many of the supporting and supportive women from the rest of the series.
Love The 1 You're With: Can Lynette Royce become a forever woman? Is available for pre-order 3/16/20 on Kindle. The release date is 4/2/20.
ASIN: B085YF3SWH (Kindle Version $2.99) ASIN: B085RRP2MQ (Print Version $13.99)
Here are the links for: Love The 1 You're With: Can Lynette Royce become a forever woman?
Kindle: http://www.amazon.com/gp/product/B085YF3SWH
Kindle Print: http://www.amazon.com/gp/product/B085RRP2MQ
Kindle UK: http://www.amazon.co.uk/gp/product/B085YF3SWH
Smashwords: https://www.smashwords.com/books/view/1009848
Book Trailer: https://youtu.be/mqnq3ogTKfU
Ask David: http://askdavid.com/reviews/book/lesbian-rom-dramedy/17765
Most popular, Worth a look, Must read, Related posts, What the experts say, Q & A