CHAPBOOK3: LAUREN'S QUARTET OF LOVE; Martine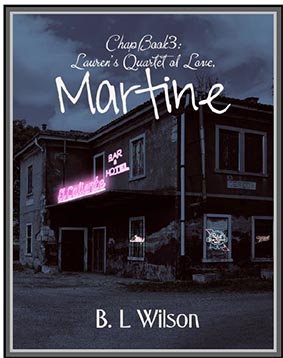 Previously in Lauren's Quartet, NYPD Lieutenant Lauren Parker nearly loses her mind over Sunny York's rape and murder. She tries to kill the rapist while they are trapped in a hospital during a snowstorm. Because of her atypical impulsive actions, she loses her badge first and then her job as a lieutenant in the NYPD. Despite Lauren's protests of guilt, she avoids prison time but not the nine months of house arrest, two years of probation, court fees, fines, and hospital bills.
In the aftermath of the brutal crime, the dead hitchhiker's girlfriend, Taylor Cobb, runs away. Her hometown shuns her for giving testimony against the murdering rapist. Lauren feels guilty that she couldn't save Sunny York. She feels honor bound to find Taylor before something bad happens to her too. She and her ex-NYPD partner Reggie Hawkins scour the countryside. E-mail leads and sightings of the young woman start in upstate New York and go through New Jersey, Pennsylvania, Ohio, Kansas, and Oklahoma. Then it's on to New Mexico, where Lauren meets Martine, a sexy sergeant with two young daughters.
During her journey, Lauren discovers a new career, new friends, a new family, and a timeless love. Will Lauren's search for runaway Taylor Cobb, end in New Mexico with Martine and her two little daughters? Or back in New York where she left her heart with an alluring ADA?
Chapbook3: Lauren's Quartet of Love, Martine, is available for pre-order 5/12/22 on Kindle and Smashwords. The release date is 6/02/22.
ASIN: B0B147X3VG (Kindle Version $2.99)
ASIN: B0B14D66SZ (Print Version $9.99)
Here are the links for: Chapbook3: Lauren's Quartet of Love, Martine,
Kindle USA: https://www.amazon.com/gp/product/B0B147X3VG
Kindle UK: https://www.amazon.co.uk/gp/product/B0B147X3VG
Print: https://www.amazon.com/gp/product/B0B14D66SZ
Smashwords: https://www.smashwords.com/books/view/1146732
Book Trailer: https://youtu.be/8cfQz3WGEQ8
Connect with BL Wilson at these links:
My blog: https://wilsonbluez.com/
Amazon author page: https://amzn.to/1y7Ncar
Goodreads: https://www.goodreads.com/author/show/10787497.B_L_Wilson
Twitter: https://twitter.com/wilsonbluez
Smashwords Interview: https://www.smashwords.com/interview/wilsonbluez
Smashwords author Page: https://www.smashwords.com/profile/view/wilsonbluez
IAN author web page: https://www.independentauthornetwork.com/bl-wilson.html
Lesbian Authors Guild: https://lesbianauthorsguild.com
Recent Posts
Most popular, Worth a look, Must read, Related posts, What the experts say, Q & A