Sinkholes, love always finds a way (Part Two)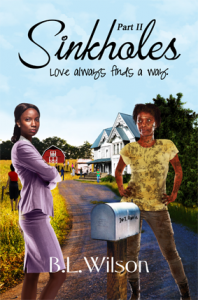 Sinkholes, love always finds a way Part Two continues where Part One left off. Isabella and Alexis try to keep their distance from each other as agreed, but circumstances continue to push them together. Although Isabella still feels betrayed and confused by Alexis' actions from thirty years ago, she finds herself experiencing odd moments of softening toward her ex-lover.
After an injury that Alexis sustains, Isabella's oldest daughter, Marilyn, nicknamed Lenny, and Alexis explore their striking similarities, although Lenny has mixed feelings about letting Alexis into her mother's life.
Meanwhile, the exploration of the sinkholes becomes more intense, as do Alexis' boss and lover Dorothea's suspicions that something is not quite right in Ohio. When Dorothea shows up at the Harris farm, she finds out that her hunch was correct, but will that affect the project?
Relationships form and are cemented, and the geologic project provides the driving force in the exciting conclusion of Sinkholes, love always finds a way, Part Two.
ASIN: B0108H5X06
ISBN-13: 978-1514199855
ISBN-10: 1514199858
Here are the links for Sinkholes, love always finds a way (Part Two):
Amazon Kindle: http://www.amazon.com/gp/product/B0108H5X06
Smashwords: https://www.smashwords.com/books/view/553398
Book trailer: https://youtu.be/D_ClmgUfc1w

Connect with BL Wilson at these links:
Facebook: http://www.Facebook.com/wilsonbluez
Goodreads: http://bit.ly/1BDmrjJ
Linked-in: http://linkd.in/1ui0iRu
Twitter: http://bit.ly/11fAPxR
Smashwords profile page: http://bit.ly/1sUKQYP
Amazon's Author Page: http://bit.ly/1tY3e27
Most popular, Worth a look, Must read, Related posts, What the experts say, Q & A