Little Hellion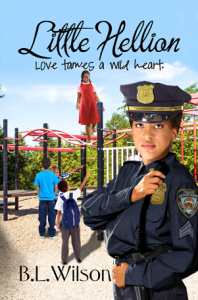 LITTLE HELLION: love tames a wild heart is the second in my Unfinished Business of Love series. Here's a bit of backstory.
This was the first novel I ever presented to a writing group. I had gone to a writing seminar at the same site where one of the facilitators made fun of my desire to become a romance writer. He and his writer friends look down their noses at me saying that I didn't deserve to join their writing group because my choice of genres was foolish and unworthy of a real discussion. He continued to make belittling comments.
I finally left the seminar felling belittled and humiliated. I even demanded a refund and explained in a terse letter why. The administrator of the writing program had a difficult time with my situation, refusing to refund my money for serval weeks while he checked out my complaint. I finally received a refund. Of course I was very wary about joining another writing group at the same location.
The leaders of my new writing group were two older women. What a difference gender makes! They were actually nice, formulating their critiques of my work in useful ways and I learned to do the same when it was my turn to critique other women's works. I enjoyed the idea of writing groups so much that I joined several other ones over the years. It's available now.
Thanks for your support
BL Wilson
Here are the links for LITTLE HELLION, love tames a wild heart:
Amazon Kindle USA: http://www.amazon.com/gp/product/B017Z4WQUA
Amazon Kindle UK: http://www.amazon.co.uk/gp/product/B017Z4WQUA
Amazon Kindle CA: http://www.amazon.ca/gp/product/B017Z4WQUA
Smashwords:  https://www.smashwords.com/books/view/593001
Createspace: https://www.createspace.com/5634284
Book trailer: https://youtu.be/leAE96H5to8
[/video
Recent Posts
Most popular, Worth a look, Must read, Related posts, What the experts say, Q & A