CHAPBOOK2: LAUREN'S QUARTET OF LOVE, Althea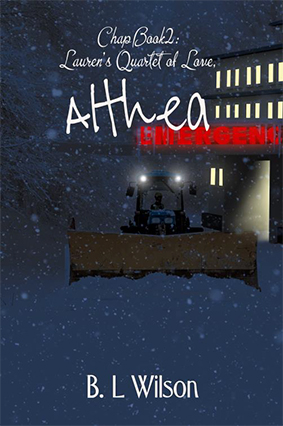 In Chapbook1 of Lauren's Quartet of Love, Sunny, Lieutenant Lauren Parker nearly loses her mind over the death of Sunny York and tries to kill the rapist.
Because of her atypical impulsive actions, she loses her gun and badge and must stand trial for the attempted murder. While awaiting trial in upstate New York, Lauren stays on house arrest in the home of ADA Althea Cosmo, who finds herself falling in love with the unpredictable police lieutenant.
Will Lauren avoid jail time for her attempt to avenge Sunny's death? Can Althea's love for the lieutenant survive the trials they have ahead? Find out as the chapters continue in ChapBook2, Lauren's Quartet of Love, Althea.
Lauren's Quartet of Love: ChapBook2, Althea is available for pre-order 3/16/22 on Kindle and Smashwords. The release date is 4/02/22.
ASIN: B09VLD1SLZ (Kindle Version $2.99)
ASIN: B09V59CW2N (Print Version $10.99)
Here are the links for: ChapBook2: Lauren's Quartet of Love, Althea
Kindle USA: https://www.amazon.com/gp/product/B09VLD1SLZ
Kindle UK: https://www.amazon.co.uk/gp/product/B09VLD1SLZ
Print: https://www.amazon.com/gp/product/B09V59CW2N
Smashwords: https://www.smashwords.com/books/view/1137657
Book Trailer: https://youtu.be/KTOcVe5mMiA
Connect with BL Wilson at these links:
My blog: https://wilsonbluez.com/
Amazon author page: https://amzn.to/1y7Ncar
Goodreads: https://www.goodreads.com/author/show/10787497.B_L_Wilson
Twitter: https://twitter.com/wilsonbluez
Smashwords Interview: https://www.smashwords.com/interview/wilsonbluez
Smashwords author Page: https://www.smashwords.com/profile/view/wilsonbluez
IAN author web page: https://www.independentauthornetwork.com/bl-wilson.html
Lesbian Authors Guild: https://lesbianauthorsguild.com
Recent Posts
Most popular, Worth a look, Must read, Related posts, What the experts say, Q & A