Viva La Difference, love has no boundaries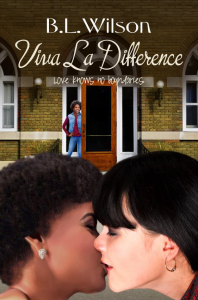 Roberta Hathaway is a Black woman who only dates woman of color. In her job as a New York City schoolteacher, she spends too much time in the classroom helping her students and not enough time outdoors, enjoying the world around her. Her friends convince her to join a yoga school so that Roberta can learn to relax and let go of some of her stress.
The yoga teacher, Cheyenne Tucker, is a white woman that the class of twenty-five women finds attractive, patient, and an extraordinary instructor. Cheyenne's newest student disagrees. Roberta does not find the yoga instructor at all intriguing. In fact, she finds Cheyenne's attempts to date her very annoying. Cheyenne is persistent, though, but will she be able to convince Roberta to Vive la Difference?
ASIN: B01HGWKB3A (Kindle Version $2.99)
ISBN-13: 978-1534896031 (Print Version $8.99)
ISBN-10: 1534896031 (Print Version $8.99)
Here are the links for VIVA LA DIFFERENCE, love knows no boundaries:
Amazon Kindle: http://www.amazon.com/gp/product/B01HGWKB3A
Amazon Kindle UK: http://www.amazon.co.uk/gp/product/B01HGWKB3A
Amazon Kindle CA: http://www.amazon.ca/gp/product/B01HGWKB3A
Createspace: https://www.createspace.com/6373182
Smashwords: https://www.smashwords.com/books/view/645514
Book trailer: https://youtu.be/HLDwwj7BYKA
Ask David: http://askdavid.com/reviews/book/lesbian-romance/13502
Recent Posts
Most popular, Worth a look, Must read, Related posts, What the experts say, Q & A