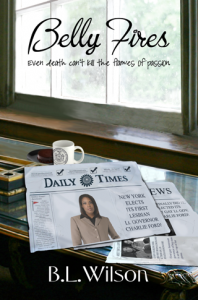 HELP A SISTAH OUT! PRE-ORDER TODAY. LOVE STORIES FOR WOMEN OF COLOR ABOUT WOMEN OF COLOR BY A WOMAN OF COLOR.  
In Belly Fires, even death can't kill the flames of passion, Lieutenant Governor Charlene Ford loses everything in a deadly car crash.
One minute, she is at the top of her game as the first African American lesbian lieutenant governor of New York State. The next minute, she is trying to keep a stiff upper lip as she watches the gravediggers bury the two walnut coffins containing her son JJ and her life partner, Regina.
All she wants is disappear for a while; to just get lost until the pain in her heart stops. She sneaks away from her security escorts and borrows her chief of staff's ancient jeep. She and Rusty, her loyal Akita, climb into the old jeep and head for parts unknown.
As she crashes through the guardrail, she struggles to put on the brakes. The jeep's brakes don't work. Charlene stops fighting her fate as the car floats in mid-air for a long moment, then tumbles down the mountainside.
The next time Charlene opens her eyes, the pain is tremendous. A handsome woman is standing over her with a knife, then kneels next her. Charlotte wonders if the woman is going to finish the job of ending her life. The pain increases tenfold when she tries to move then everything goes black.
ASIN: B00V2FKMEQ
ISBN-13: 978-1508874782
ISBN-10: 1508874782
Here are the links for Belly Fire; even death can't kill the flames of passion:
Amazon's link: http://www.amazon.com/dp/B00V2FKMEQ
Smashwords: http://www.smashwords.com/books/view/529664
Book trailer: https://youtu.be/EaGu-pvFz8o

Connect with BL Wilson at these links:
Facebook: http://www.Facebook.com/wilsonbluez
Goodreads: http://bit.ly/1BDmrjJ
Linked-in: http://linkd.in/1ui0iRu
Twitter: http://bit.ly/11fAPxR
Smashwords profile page: http://bit.ly/1sUKQYP
Amazon's Author Page: http://bit.ly/1tY3e27