Mink Too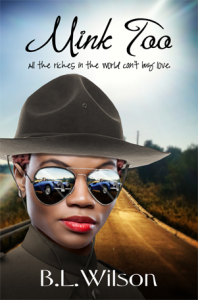 Want to read an intriguing tale about family secrets and their ability to corrode the people's lives they were meant to protect? Then you'll love reading my new mystery novel, MINK TOO.
Wealthy and spoiled Susan Drummond gets her thrills by throwing around her father's considerable influence in the small southern town in which she lives. This includes messing with the town's police force, most notably Sergeant Liz Gilmore, a New York City transplant with some issues of her own. The two lock horns and Liz is ordered to give sexy Susan swimming lessons to avoid being fired.
On the way home from this community service, Liz investigates a reported gas leak and instead is injured in a gas explosion in the process of saving Susan's father's life. As she recovers, she and Susan team up to find out who is responsible for the attempt on his life and the death of a security guard, but will the sparks between Liz and Susan set off more explosions.
ASIN: B01CMWJY1E (Kindle Version $2.99)
ISBN-13: 978-1530317578 (Print Version $10.99)
ISBN-10: 1530317576 (Print Version $10.99)
Here are the links for MINK TOO, all the riches in the world can't buy love:
Amazon Kindle: http://www.amazon.com/gp/product/B01CMWJY1E
Amazon Kindle UK: http://www.amazon.co.uk/gp/product/B01CMWJY1E
Amazon Kindle CA: http://www.amazon.ca/gp/product/B01CMWJY1E
Smashwords: https://www.smashwords.com/books/view/619352
Book trailer: https://youtu.be/NyMbEYLmIIE
Ask David: http://askdavid.com/reviews/book/lesbian-thriller/12864
Connect with BL Wilson at these links:
Blog: http://wilsonbluez.com
Facebook Business Page: https://www.facebook.com/patchworkbluezpress
Goodreads: http://bit.ly/1BDmrjJ
Linked-in: http://linkd.in/1ui0iRu
Twitter: http://bit.ly/11fAPxR
Smashwords profile page: http://bit.ly/1sUKQYP
Amazon's Author Page: http://bit.ly/1tY3e27
Most popular, Worth a look, Must read, Related posts, What the experts say, Q & A