The First One'S Free, the rest you pay for with your life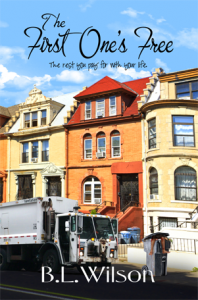 Want to read a great romantic suspense tale for $2.99? Buy THE FIRST ONE'S FREE, the rest you pay for with your life. Pre-order now. Release date 6/1/16.
New York City sanitation worker Tracey Sneed witnesses a group of men shoot an unarmed man behind a vacant building. Frightened by what she has observed, she tries to keep it to herself, but the DA's office tracks her down anyway so she can testify against the dirty cops who allegedly committed the murder. Now she is the target of harassing calls and other small attacks, but the final straw is when her house is set on fire while she and her young son are in it.
Angry, she visits the DA's office to let them know that she will not testify, that it is too much of a risk to her and her child. There, she confronts ADA Ramona "Remy" Martin, a feisty lawyer who is determined to win her case. Sparks fly between the two women, although from different backgrounds and places in their lives. Will this encounter unite the two women or is it only the beginning of the danger and intrigue surrounding the murder case in The First One's Free?
ASIN: B01ESA6934 (Kindle Version $2.99)
ISBN-13: 978-1530825707 (Print Version $11.99)
ISBN-10: 1530825709 (Print Version $11.99)
Here are the links for THE FIRST ONE'S FREE, the rest you pay for with your life:
Amazon Kindle: http://www.amazon.com/gp/product/B01ESA6934
Amazon Kindle UK: http://www.amazon.co.uk/gp/product/B01ESA6934
Amazon Kindle CA: http://www.amazon.ca/gp/product/B01ESA6934
Createspace: https://www.createspace.com/6177424
Smashwords: https://www.smashwords.com/books/view/633425
Book trailer: https://youtu.be/rlMa-70EDrM
Connect with BL Wilson at these links:
My blog: http://wilsonbluez.com
Facebook Business page: https://www.facebook.com/patchworkbluezpress
Goodreads: http://bit.ly/1BDmrjJ
Linked-in: http://linkd.in/1ui0iRu
Twitter: http://bit.ly/11fAPxR
Smashwords profile page: http://bit.ly/1sUKQYP
Amazon's Author Page: http://bit.ly/1tY3e27
Lesbian Authors Guild: http://lesbianauthorsguild.com
Ask David: http://askdavid.com/books/10892
Recent Posts
Most popular, Worth a look, Must read, Related posts, What the experts say, Q & A