IF ONLY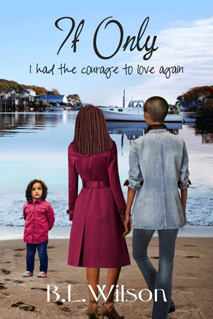 In IF ONLY, I had the courage to love again, Beth Evans, after a failed relationship, is looking for a date. She tries a forward approach with a woman she finds attractive and practically accosts her on the street. Beth babbles about nothing and everything in her efforts to impress the woman, while the object of her desire, Joan Riley, wants to escape from the crazy motor-mouth. Beth feels embarrassed that she bothered Joan and does not even join her friends in the bar they are hanging out at for the evening. She stays in the car and encounters Joan yet again, and again, the chance meeting does not go well.
The story should end there, but it doesn't. Fate or just plain bad luck throws the two women together again. An ambulance whisks Beth's daughter Pamela, the victim of a hit and run accident, to Saint Sebastian's ER unit. Dr. Joan Riley becomes her trauma surgeon. As Pamela's doctor, Joan has the opportunity to peek into Beth Evans' life. She likes what she sees, but she is too relationship-shy to do anything about it. If only she could overcome her hesitation, if only she had the courage to love again…
IF ONLY, is available for pre-order now on Kindle. The release date is 11/2/16.
ASIN: B01MQ0EE87 (Kindle Version $2.99) ISBN-13: 978-1539548423 (Print Version $12.99) ISBN-10: 1539548422 (Print Version $12.99)
Here are the links for IF ONLY, I had the courage to love again:
Amazon Kindle UK: http://www.amazon.co.uk/gp/product/B01MQ0EE87
Amazon Kindle USA: http://www.amazon.com/gp/product/B01MQ0EE87
Createspace: https://www.createspace.com/6647712
Smashwords: https://smashwords.com/books/view/674541
Book trailer: https://youtu.be/uU9wXaE48EI
Thanks for reading this. Remember to VOTE ON TUESDAY 11/8/16!!!
BL Wilson
Most popular, Worth a look, Must read, Related posts, What the experts say, Q & A