Tiger Eyes, can a woman change her stripes?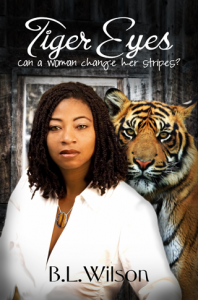 Tiger Eyes, can a woman change her stripes?, explores the contentious relationship between a famous doctor, Bedford Riddle, and his estranged police sergeant daughter, Elaine.
Sergeant Elaine Riddle becomes the victim of a holiday DWI. Luckily, Dr. Sandra Moxely, a beautiful ER trauma surgeon, witnesses the fatal car crash. She provides medical assistance at the scene and then performs the surgery to repair Elaine's broken wrist. The two women act on their attraction for each other and begin filling nights and weekends with each other at the Riddle's Double R Ranch.
Tensions explode when Elaine discovers her father confided a terrible secret to Sandra instead of to her. In a fit of jealous anger, Elaine banishes Sandra from the ranch and her life.
Thus begins Elaine's journey of self-discovery. Should she let go of an old family rift that occurred between her and her father before it is too late? Should she allow herself to let her guard down and admit the love she has for beautiful Sandra and take the next logical step? Can a woman who thinks she has life figured out change her stripes?
ASIN: B00WT1ZLMK
ISBN-13: 978-1511545808
ISBN-10: 1511545808

Here are the links for Tiger Eyes, can a woman change her stripes?
Amazon: http://www.amazon.com/dp/B00WT1ZLMK
Smashwords: http://www.smashwords.com/books/view/540148
Book trailer link: https://youtu.be/qHAuke1B4oE
Connect with BL Wilson at these links:
Facebook: http://www.Facebook.com/wilsonbluez
Goodreads: http://bit.ly/1BDmrjJ
Linked-in: http://linkd.in/1ui0iRu
Twitter: http://bit.ly/11fAPxR
Smashwords profile page: http://bit.ly/1sUKQYP
Amazon's Author Page: http://bit.ly/1tY3e27
Most popular, Worth a look, Must read, Related posts, What the experts say, Q & A