What's Love Got To Do With It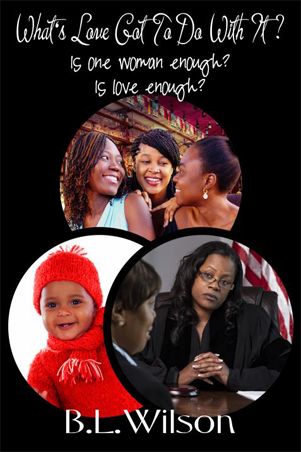 Kameron Mills, a love 'em and leave 'em stud, runs through women like water. Until she meets Ernestine Williams a successful restaurant owner. The older woman has a certain something that Kam cannot resist.
Ernestine has accumulated a history of failed relationships, attracting player-player, Romeos, and stud lover types who won't commit to anything but adultery. Kameron seems like more of the same, but insists she isn't, that she is ready to settle down with Ernie.
Enter Baby Kam, Kam's baby girl from a previous relationship. Ernie falls in love with Baby Kam, but the two Kams are a package deal. Can Kameron prove her love and commitment to both Ernestine and Baby Kam and keep this budding family together? Find out in What's Love Got To Do With It?
What's Love Got To Do With It is available now for pre-order on Kindle on 6/19/19. The release date is 7/02/19.
ASIN: B07TC6BPLL (Kindle Version $2.99)
ASIN: 9781074626471 (Print Version $11.99)
Here are the links for: What's Love Got To Do With It
Kindle: http://www.amazon.com/gp/product/B07TC6BPLL
Kindle Print: https://www.amazon.com/dp/9781074626471
Smashwords: https://www.smashwords.com/books/view/944840
Book trailer: https://youtu.be/rpP2xVlV0XM
Ask David: http://askdavid.com/books/10892
Connect with BL Wilson at these links:
Blog: http://wilsonbluez.com
Facebook Business Page: https://www.facebook.com/patchworkbluezpress
Goodreads: http://bit.ly/1BDmrjJ
Linked-in: http://linkd.in/1ui0iRu
Twitter: http://bit.ly/11fAPxR
Smashwords Profile Page: http://bit.ly/1sUKQYP
Amazon's Author Page: http://bit.ly/1tY3e27
Recent Posts
Most popular, Worth a look, Must read, Related posts, What the experts say, Q & A