Bloodhound3, pour me another one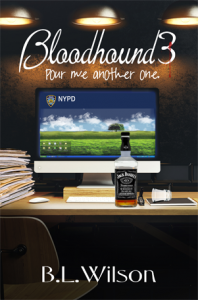 Want to read a great mystery for Gay Pride? Then buy BLOODHOUND3, pour me another one.
Pre-order now, release date 6/1/16.
NYPD homicide detective, Lindsay Washington is trying to catch a serial rapist who is evolving into a killer who keeps slipping through traps. She drinks to ease the knowledge she's been unable to catch this one criminal. She drinks to hide the problems in her personal life. She drinks because she enjoys the look of Jack but hates the taste.
Lindsay's drinking problem becomes apparent when a sixth victim is murdered by serial rapist. To make matters worse for Lindsay, the sixth victim is her on-again-off again lover. Department brass, blame her for messing up evidence in the case. They give her an ultimatum—get sober then accept a demotion to work as a street cop or resign.
Lindsay is insulted by NYPD's unbending stance on her drinking issues. She quits the department convinced it will end her stress and her pain which will stop her drinking. It doesn't but three years sober in AA and a new job as a security guard help. She's in control of her life again until the same lethal serial rapist starts sending her encrypted threats about the next victim.
ASIN: B01ESA62BS (Kindle Version $2.99)
ISBN-13: 978-1530816460 (Print Version $12.99)
ISBN-10: 1530816467 (Print Version $12.99)
Here are the links for BLOODHOUND3, pour me another one:
Amazon Kindle: http://www.amazon.com/gp/product/B01ESA62BS
Amazon Kindle UK: http://www.amazon.co.uk/gp/product/B01ESA62BS
Amazon Kindle CA: http://www.amazon.ca/gp/product/ B01ESA62BS
Createspace: https://www.createspace.com/6176059
Smashwords: https://www.smashwords.com/books/view/633422
Book trailer: https://youtu.be/PER_7ZkyPtw
Connect with BL Wilson at these links:
Blog: http://wilsonbluez.com
Facebook Business Page: https://www.facebook.com/patchworkbluezpress
Goodreads: http://bit.ly/1BDmrjJ
Linked-in: http://linkd.in/1ui0iRu
Twitter: http://bit.ly/11fAPxR
Smashwords profile page: http://bit.ly/1sUKQYP
Amazon's Author Page: http://bit.ly/1tY3e27
Recent Posts
Most popular, Worth a look, Must read, Related posts, What the experts say, Q & A