Forever Woman, are you for real?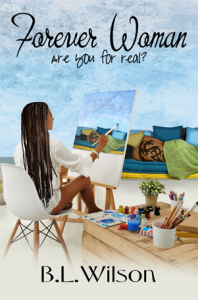 Jenna Jacks, a wildly temperamental artist with a load of baggage, goes through chauffeurs faster than she goes through the models she paints, or so rumors suggest. Professional limo driver Florence Walker immediately bumps heads with Jenna during her interview, but Jenna discovers that Flo is a highly sought after driver and there is also an undercurrent of attraction that both women work at denying.
Despite the headaches that Jenna anticipates, she offers Flo the position and despite the warnings from co-workers that Jenna might be high maintenance, Flo takes the job. Unfortunately, the first day of work goes badly and causes Flo to become closer to her new boss than she wants to be, and not in the way either woman wants.
Can the two women work on their differences and accept their mutual attraction and the baggage the other has, or will they miss the chance to become each other's Forever Woman, are you for real?
Pre-order now on Kindle for $2.99. Release date on Mother's Day May 8, 2016.
ASIN: B01ES9AQN4 (Kindle Version $2.99)
ISBN-13: 978-1532896248 (Print Version $10.99)
ISBN-10: 1532896247 (Print Version $10.99)
Here are the links for FOREVER WOMAN, are you for real?
Amazon Kindle: http://www.amazon.com/gp/product/B01ES9AQN4
Amazon Kindle UK: http://www.amazon.co.uk/gp/product/B01ES9AQN4
Amazon Kindle CA: http://www.amazon.ca/gp/product/B01ES9AQN4
Smashwords: https://www.smashwords.com/books/view/631783
Connect with BL Wilson at these links:
Blog: http://wilsonbluez.com
Facebook Business Page: https://www.facebook.com/patchworkbluezpress
Goodreads: http://bit.ly/1BDmrjJ
Linked-in: http://linkd.in/1ui0iRu
Twitter: http://bit.ly/11fAPxR
Smashwords profile page: http://bit.ly/1sUKQYP
Amazon's Author Page: http://bit.ly/1tY3e27
Most popular, Worth a look, Must read, Related posts, What the experts say, Q & A