Sculpture Gardens, our love is set in stone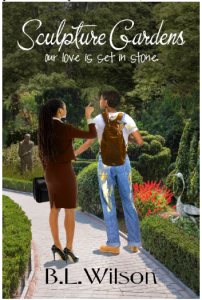 Through a series of misunderstandings, female sculptor Dana Nixon loses her job as a server when a diner complains about her attitude to the owner. The complaining diner, Kenya Smithson, turns out to be a patron of the arts that Dana meets again at a gallery opening for local artists. Kenya finds it difficult to believe the rude, on the make, and extremely opinionated woman is the artist who makes such beautiful objects.
Since Dana lost her job as a server, she now drives a cab at night because it pays more while she creates artworks during the day. In an odd turn of fate, Dana becomes seriously injured on the job and Kenya feels responsible. Can Kenya make amends to Dana and make her whole again, as well as admit the feelings she has for the artist are not just about her sculptures? Find out when you read Sculpture Gardens, our love is set in stone.
ASIN: B01HDWYP76 (Kindle Version $2.99)
ISBN-13: 978-1534618237 (Print Version $9.99)
ISBN-10: 1534618236 (Print Version $9.99)
Here are the links for SCULPTURE GARDENS, our love is set in stone:
Amazon Kindle: http://www.amazon.com/gp/product/B01HDWYP76
Amazon Kindle UK: http://www.amazon.co.uk/gp/product/B01HDWYP76
Amazon Kindle CA: http://www.amazon.ca/gp/product/B01HDWYP76
Createspace: https://www.createspace.com/6336848
Smashwords: https://www.smashwords.com/books/view/645076
Book trailer: https://youtu.be/TV-DuQzd5Tc
Ask David: http://askdavid.com/reviews/book/lesbian-romance/13503
Most popular, Worth a look, Must read, Related posts, What the experts say, Q & A