Books, Balls & Dogs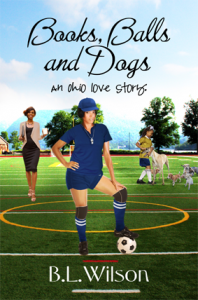 In Books, Balls, and Dogs, an Ohio love story, Taylor Price, head librarian, is a brand new arrival in town. Lost, Taylor meets Jamie Underwood, the flag person from a road repair crew who guides her to the town's only veterinarian. Later on, Jamie turns out to be her daughter's soccer coach.
The two women have several run-ins on the soccer field; on the roadway in front of Taylor's home; at the library, and in Taylor's basement; her kitchen, and her driveway. Bumping heads creates friction between the two women, but it leads to an undeniable attraction as well.
Neither woman realizes the dog Jamie found giving birth to seven puppies in her garage weeks ago is the same dog Taylor's daughter has been scouring their neighborhood to find. The budding relationship between the two women takes an unexpectedly negative turn when the facts surface and the dog's true ownership is revealed.
Thank You for all your support,
Author BL Wilson
ASIN: B011YIFU5Q
ISBN-13: 978-1515107170
ISBN-10: 1515107175
Here are the links for Books, Balls and Dogs, an Ohio love story:
Amazon Kindle: http://www.amazon.com/gp/product/B011YIFU5Q
Smashwords:  https://www.smashwords.com/books/view/564242
Book trailer: https://youtu.be/Ljku5mGGN3Y
Connect with BL Wilson at these links:
Facebook: http://www.Facebook.com/wilsonbluez
Goodreads: http://bit.ly/1BDmrjJ
Linked-in: http://linkd.in/1ui0iRu
Twitter: http://bit.ly/11fAPxR
Smashwords profile page: http://bit.ly/1sUKQYP
Amazon's Author Page: http://bit.ly/1tY3e27
Most popular, Worth a look, Must read, Related posts, What the experts say, Q & A