DUTCH CHOCOLATE3; Blood Lust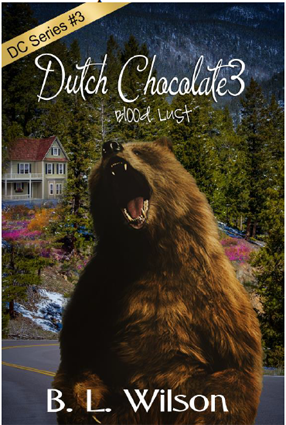 In the third action novel of the Dutch Chocolate series, it's been four years since VP Judith Kerson's death and Yolanda Riggins, aka Dutch Chocolate, still has a hole in her heart.
After an incident with a bear, Dutch goes upstate to check on her cousin and her family. While deciding how to handle the possibility the bear's mate will go on a rampage, Dutch meets the game warden, a somewhat strange woman, examining the dead male bear. The bear's mate attacks Dutch and the game warden, but luckily, Dutch's co-workers kill the female bear in mid-attack. The game warden, Linda Whitehawk, introduces Dutch to the world of poaching, trading and killing illegal exotic game for money that is happening in her own back yard.
Linda is a staunch conservationist and finds herself tempering Dutch's impulsive instinct to hunt the bears and poachers alike to protect her family, and the two bump heads. However, Dutch's family and friends see love in the air between the pair of opposites. Will Dutch and Linda have a meeting of the minds or will their differences in ideology drive them apart? Find out in Dutch Chocolate3: Blood Lust.
Available for pre-order 2/10/21. The release date is 3/02/21.
Here are the links for: Dutch Chocolate3: Blood Lust
Kindle USA: http://www.amazon.com/gp/product/B08WC99FDS
Kindle UK: http://www.amazon.co.uk/gp/product/B08WC99FDS
Amazon Print: http://www.amazon.com/gp/product/B08WJTPT36
Smashwords: https://www.smashwords.com/books/view/1068595
Book Trailer: https://www.youtube.com/watch?v=5x35Cw4tZHo&feature=youtu.be
Ask David: http://askdavid.com/books/10892
Connect with BL Wilson at these links:
Blog: https://wilsonbluez.com
FB Page: https://www.facebook.com/patchworkbluezpress
Goodreads: https://www.goodreads.com/author/show/10787497.B_L_Wilson
Twitter: https://twitter.com/wilsonbluez
Amazon Author Page: https://www.amazon.com/-/e/B002BOJ19O
Smashwords Interview: https://www.smashwords.com/interview/wilsonbluez
Smashwords author Page: https://www.smashwords.com/profile/view/wilsonbluez

Most popular, Worth a look, Must read, Related posts, What the experts say, Q & A