AVA & PATIENCE, a purple love story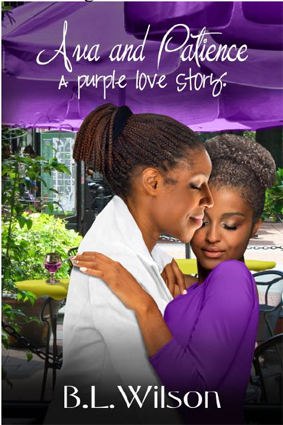 Ava Thomas is an attractive, wealthy, older single Black woman who practices abstinence, that is, until she meets a shy, quiet bartender at her friend's private club who loves purple as much as she does.
Patience Meeks has been observing Ava throughout her dinner with friends. When a drink order from Ava's table comes to Patience, she decides to mix a special concoction in honor of the sexy purple designer dress Ava is wearing. The tasty purple drink and Patience's quiet observations during dinner arouse Ava's curiosity. Patience feels foolish as she stutters and stumbles over her words and simply walks away from Ava in mid-sentence and hides in the employee lounge until Ava leaves.
What should be the end of the connection between the two women is not. Ava wants to know more about the shy, female bartender who loves purple, has a devilish cockatoo named Socrates, and loves taking pictures of anything and everything, including "night people." And hence begins a seesaw relationship between the two women.
Is a love of purple, pictures, and birds enough to keep two women from far different worlds together? Find out in Ava & Patience, a purple love story.
ASIN: B07WNCZK1B (Kindle Version $2.99)
ASIN: B07WHMQ9D8 (Print Version $11.99)
Here are the links for: Ava & Patience, a purple love story.
Kindle: http://www.amazon.com/gp/product/B07WNCZK1B
Kindle Print: https://www.amazon.com/dp/B07WHMQ9D8
Smashwords: https://www.smashwords.com/books/view/954232
Book trailer: https://youtu.be/s-P7bmdJr-o
Ask David: http://askdavid.com/books/10892
Recent Posts
Most popular, Worth a look, Must read, Related posts, What the experts say, Q & A