First Time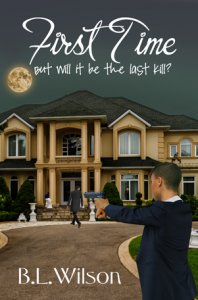 My Unfinished Business of Love series of 5 novellas examines how women handle romantic relationships that end badly. Do the ex-lovers still think about each other? Would they want a do-over? What would they do differently if given the opportunity for a fresh start? Each of my novellas examines what women do when given another chance to make things better for the ones they profess to love…even when that chance comes ten or fifteen years after the breakup.
As always, the main characters in the five novellas are all city workers and or women in uniform. The five novellas in the Unfinished Business Series are HORSEWOMAN, LITTLE HELLION, ADAM, MUFFIN and FIRST TIME.
FIRST TIME: but will it be the last kill is the fifth and final book in Unfinished Business of Love series.
I wrote this book is for all those lovers with broken hearts who wondered what if they had a second chance, would things turn out differently. If things were different now, how would they differ when compared to the past?
I tried to imagine two women in a psychology confining space. One of the women is clearly out as gay while the other one is not sure who she is. Things happen, pressures build up and the woman who isn't sure of her orientation needs reassurance one night. The next morning, reality hits both women. Each woman sees things differently. One woman wants more while the other woman wants to forget what happened the night before completely. What would it take for the two women to meet again? How long would it take and under what circumstances would they meet again? I considered these and other questions as I wrote my novella.
This is also my first attempt at writing a murder mystery where one of the protagonists has an erotic relationship with his victim in the beginning of the novel. It's different. I hope you enjoy it. It's available now.
Thanks for your support
BL Wilson
Here are the links for: FIRST TIME, but will it be the last kill?
Amazon Kindle USA: http://www.amazon.com/gp/product/B017Z4WO0C
Amazon Kindle UK: http://www.amazon.co.uk/gp/product/B017Z4WO0C
Amazon Kindle CA: http://www.amazon.ca/gp/product/B017Z4WO0C
Smashwords: https://www.smashwords.com/books/view/593023
Createspace: https://www.createspace.com/5809557
Book trailer: https://youtu.be/uAY3g2HjzeI
Most popular, Worth a look, Must read, Related posts, What the experts say, Q & A