Devil's In The Details, soulless love?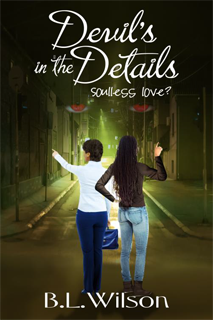 Dirty Detective McCoy murders his disgraced ex-partner Detective Michelle Edwards. Michelle happens to be in love with his kid sister, ADA Brenda McCoy. Brenda is investigating a corruption case against two dirty cops that turn out to be Michelle and her brother. Michelle turns state's evidence against McCoy and he decides to kill her.
Now dead, Michelle wants a do-over. She wants to relive the last three years and three days of her life before her murder to keep her lover Brenda from committing suicide. Old Scratch, also known as Big D, hears her plea and makes a deal with her. She has to bring him an innocent soul in exchange for hers. She has seventy-two hours to find one. She can't bring him any of the drug dealers, drug users, crooked cops, or others criminals that she's dealt with in her job as a cop. When Brenda offers her own soul so they can live together in Hell, will Michelle accept the deal?
Devil's In The Details, soulless love? is available for pre-order 5/23/17 on Kindle. The release date is 7/2/17.
ASIN: B0734J9S5J (Kindle Version $2.99)
ISBN-13: 978-1548304911 (Print Version $8.99)
ISBN-10: 1548304913 (Print Version $8.99)
Here are the links for: DEVILS' IN THE DETAILS, soulless love?:
Amazon Kindle USA: http://www.amazon.com/gp/product/B0734J9S5J
Amazon Kindle UK: http://www.amazon.co.uk/gp/product/B0734J9S5J
Createspace: https://www.createspace.com/7282347
Smashwords: https://www.smashwords.com/books/view/732042
Book Trailer: https://youtu.be/2SqO5Jf82UQ
Ask David: http://askdavid.com/reviews/book/paranormal-romance/14992
Connect with BL Wilson at these links:
Blog: http://wilsonbluez.com
Facebook Business Page: https://www.facebook.com/patchworkbluezpress
Goodreads: http://bit.ly/1BDmrjJ
Linked-in: http://linkd.in/1ui0iRu
Twitter: http://bit.ly/11fAPxR
Smashwords profile page: http://bit.ly/1sUKQYP
Amazon's Author Page: http://bit.ly/1tY3e27
Most popular, Worth a look, Must read, Related posts, What the experts say, Q & A