Portside Date: December 29, 2014
Author: Heidi Boghosian
Date of Source: Friday, December 26, 2014
Common Dreams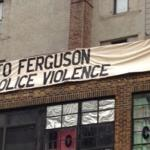 Just minutes after unfurling a 50-foot banner on the side of the A.J. Muste Building in Manhattan (also dubbed the "Peace Pentagon" for the nonviolent social change organizations it houses) a friend called to tell me that two police officers had been shot, execution style, in Brooklyn. I was composing a Tweet about the banner but deleted it mid-phrase. The banner reads: "NYC to Ferguson: End Police Violence," and it was sponsored by the Campaign to Bring Mumia Home.
Read the entire article here:
Source URL: https://portside.org/2014-12-30/grassroots-message-against-police-violence%E2%80%94and-all-violence%E2%80%94stands-firm