Oprah has her master's class. This is my refresher class. It's another look back in living history. This is pre-Gardner grand jury information that I'd love to hear your opinion. Send me a comment, Tweet or like me on Facebook or LinkedIn.
Twitter: http://bit.ly/11fAPxR
Facebook: http://on.fb.me/1zvTAcl
Linked-in: http://linkd.in/1ui0iRu
Thanks for reading
BL Wilson
Thousands of New Yorkers Call for Justice for Eric Garner, Rally in Staten Island
Portside Date:
August 25, 2014
Author:
Rebecca S. Myles
Date of Source:
Monday, August 25, 2014
Latin Post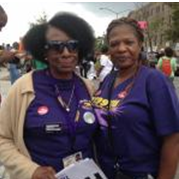 Polly Henry, nurse with Keisha Wallace both from Long Island and members of 1199 SEIU at March for Justice for Eric Garner, Staten Island, NY August 23, 2014
Several thousand people came by car, ferry or traveled in justice caravans for the rally and march on Saturday in Staten Island, New York to call for justice for Eric Garner.
Garner, a father of six, died July 17 when police tried to arrest him after accusing him of selling untaxed cigarettes and placed him in a chokehold. A cell phone video of the incident showed Garner telling the officers, "I can't breathe." The city medical examiner this month cited the chokehold and compression of his chest as the cause of Garner's death.
The lunchtime rally attracted a diverse group of supporters — mohers with strollers, hippies with guitars, union members, followers of the Nation of Islam, hipsters, hip-hoppers and a huge gathering of adults and children behind a banner for the New York State NAACP. The march began at Jay Street where Garner died, with a slow procession past the Staten Island District Attorney's office for a rally on Richmond Terrace near the 120th Police Precinct.
Overhead, helicoptors marked time with the chants and call and response, "Hands Up! Don't Shoot," "We are the people, the mighty, mighty people," and "I can't breathe! I can't breathe!"
Banners and slogans were prevalent, pinned on the backs of T-shirts: "Black Lives Matter" worn by many white girls, a sign printed with "Jim Crow Justice — Supreme Court 1857 Dread Scott Decison Black Man Had No Rights Which The White Man Was Bound To Respect," and "Let Eric Garner be the last person killed by police brutality in New York City."
The march was organized by the National Action Network and Reverend Al Sharpton, who has the ear of many local politicians, including New York's Mayor de Blasio, who sent an aid to march.
Also attending were several New York elected officials: City Council Speaker Melissa Mark-Viverito and city council members Laurie Cumbo, Carlos Menchaca, Ydanis Rodriguez and Jumaane Williams.
The occasion had union sponsorship from the United Federation of Teachers and healthcare union SEIU 1199, some of whose members are mothers of children killed by police.
"I want to give support to the family of the dead man, plus I want the culture in the police force to change where the police philosophy is one life. People need to live, be justice not injustice. Because we don't hate the police, we know the police job is tough. I work with the public too, I know it is tough, but I also know every life is valuable and what I must do to save a life I must do in my job as nursing. Black life is no different than white life, all life is valuable," said Polly Henry, a nurse from Long Island and member of 1199 SEIU.
Henry said she wasn't surprised by the turnout. "When people are fed up and can't take it anymore, that's when change is made. My only issue is that I hope this is happening every week, it should happen once a week, twice a month. And don't give up. Don't go back to your community and don't do it again because justice must be done for the whole community, for everybody. You know when I looked at the picture and saw the cop on top of his head pressing it on the concrete when he said 'I can't breathe!' — because I work in nursing I was out of my mind," she added.
Last week the local DA announced he'd call for a special grand jury to investigate the case of Garner's death and for the jury to decide whether to indict the police officers involved. The mayor also met with religious leaders to try to avoid what many feared might be a repeat of the protests in Ferguson. The NYPD said there were no arrests on Saturday.
"Blacks, whites, Latinos — we came down Bay Street together," said Sharpton, vowing to lead a new movement on the nation's capital. "We're going to combine, and we're going to Washington."
Bob and Ruth, a white couple that attended the march, wore printed T-shirts that read "One Community, One City, Respect for All."
Ruth said she came "because it is simply unacceptable to use that kind of force on somebody who is unarmed and not even being confrontational, and unless people like us stand up and say it is unacceptable, it is going to continue."
Source URL: https://portside.org/2014-08-25/thousands-new-yorkers-call-justice-eric-garner-rally-staten-island