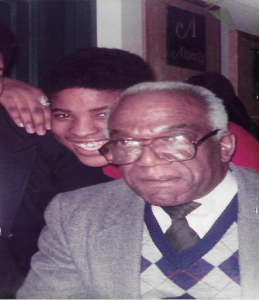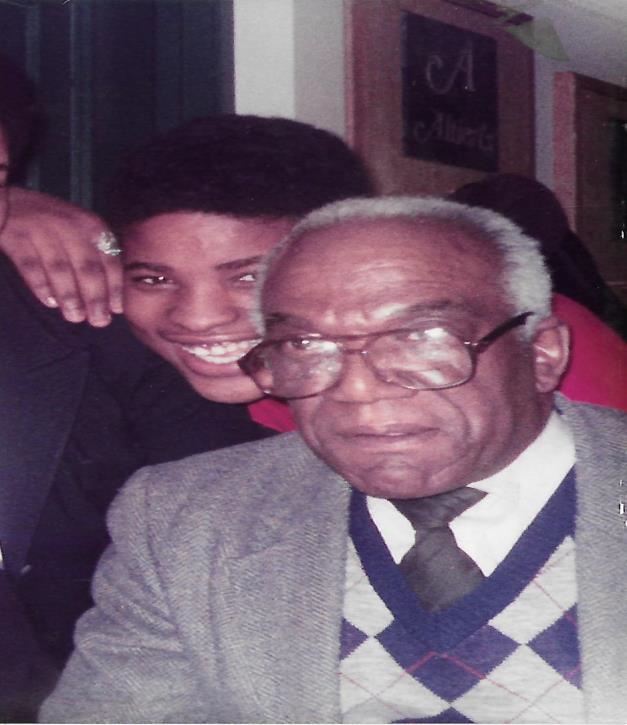 On this Decoration Day, also known as Memorial Day, I wanted to honor my uncle, a Black veteran who fought in Germany during World War II in some small way. The photo you see above was taken in 1989. I'm not sure what my son and my uncle are looking at. My son was probably grinning at my younger sister, who was taking the picture. I imagine Uncle Herbie was thinking about his big sister, my Aunt Sadie, who had just died. I tried to find a photo of my uncle alone and in uniform, but I couldn't find one.
When I was a kid, I really admired my uncle because he was s-o-o different from my father the medical doctor, who was also his big brother. Uncle Herbie was the only surviving uncle that I had. My father came from a very large family of nine kids, but only three survived to adulthood (my father, my uncle, and my aunt). He was the first one to attend college and went on to get a medical degree.
In contrast, my uncle worked in a factory. I'm not sure whether the factory produced tires or automotive parts. We lived in Akron, Ohio, which was the rubber tire capital of the world in the 50s and 60s, while my uncle and his wives lived in Columbus, Ohio. I remember my uncle being an avid union man. He took me to my first union meeting.
At the time, I didn't understand what unions were, but I liked the idea that all kinds of men stood up and had their say at the meetings. Black men, Brown men, and white men supported each other and laughed with each other too. They all seemed to respect my uncle, who was their shop steward. I think I just liked the
idea that a man could survive without the higher education my parents insisted my siblings and I better obtain or else.
With my uncle around, my father acted differently. My father wasn't the same strict disciplinarian he usually was around me. He actually had a sense of humor. He told us stories of his childhood on the farm with his grandfather. The one thing my father and my uncle never spoke about in front of us kids was the War against Hitler, also known as WW II.
I remember the one time my uncle began to talk about the war, he spoke of killing Nazis in Germany. My father quickly interrupted my uncle and sent us kids out of the room. Of course, being the curious children we were, we snuck back to eavesdrop at the doorway. My father lectured my uncle about not saying certain things in front of his kids. I was fascinated by the idea that my very own uncle might have actually killed somebody in a faraway land and lived to tell us about it. Every time I thought about what my uncle said he'd done, it just boggled my mind for a long time … especially since we kids weren't allowed to speak about it or ask questions about it. I wasn't afraid of my uncle because he might have killed somebody. Instead, I gained a new respect for my uncle after overhearing one of his secrets.
Uncle Herbie, thank you for introducing me to the concept of unions. I became a staunch union member and an active shop steward because of you. I also salute you and thank you for your service in World War II.
Thank you so much for reading this.
BL Wilson
Connect with BL Wilson at these links:
Blog: http://wilsonbluez.com
Facebook Business Page: https://www.facebook.com/patchworkbluezpress
Goodreads: http://bit.ly/1BDmrjJ
Linked-in: http://linkd.in/1ui0iRu
Twitter: http://bit.ly/11fAPxR
Smashwords profile page: http://bit.ly/1sUKQYP
Amazon's Author Page: http://bit.ly/1tY3e27