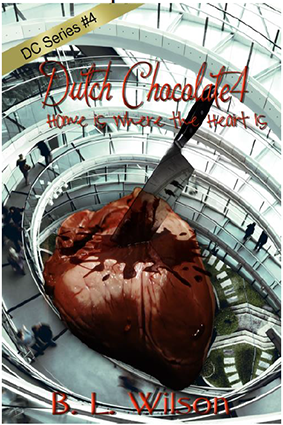 In my fourth novel of the Dutch Chocolate Series, a member of Dutch's team is in serious trouble. It's been 18 months since the bears left the farmland Dutch and her crew now jointly own. Dutch and her cousin Bonita gave each member of the crew their own piece of the farmland. Everyone but Nurse Dora Day has built a permanent home on the land they own. Dora is a true city girl. Born and raised in the city, she won't accept the plot of land Dutch offers because her wife Mattie has no desire to move upstate to the boonies. Mattie is a physical therapist and her clients live in the city. She's determined not to move upstate. Dora is deeply in love with Mattie and has been for sixteen years they've been married. She wants whatever Mattie wants which means they still live in the city.
One night, Dutch receives an odd call from Dora who doesn't sound at all like herself. Dora claims she's in Riker's Island hospital which is a part of the city's corrections system. She's charged with the murder of her wife Mattie. Dora claims she can't remember what happened the night of her wife's murder. Dora needs Dutch's help to find out. While Dutch agrees to help Dora, she's worried about what her investigation may uncover about her old friend Dora and her wife Mattie.
I hope you enjoy reading Dutch Chocolate 4: Home Is Where The Heart Is.
Available on Kindle and Smashwords now.
ASIN: B09CZ8VJBB (Kindle Version $2.99)
ASIN: B09CRW96NN (Print Version $12.99)
Here are the links for: Dutch Chocolate 4: Home Is Where The Heart Is
Kindle USA: http://www.amazon.com/gp/product/B09CZ8VJBB
Kindle UK: http://www.amazon.co.uk/gp/product/B09CZ8VJBB
Amazon Print: http://www.amazon.com/gp/product/B09CRW96NN
Smashwords: https://www.smashwords.com/books/view/1100017
Book Trailer: https://youtu.be/V766ZH5qqPQ
Ask David: http://askdavid.com/books/10892
Connect with BL Wilson at these links:
My blog: https://wilsonbluez.com/
Facebook Business page: https://www.facebook.com/patchworkbluezpress
Amazon author page: http://amzn.to/1y7Ncar
Goodreads: https://www.goodreads.com/author/show/10787497.B_L_Wilson
Twitter: https://twitter.com/wilsonbluez
Smashwords Interview: https://www.smashwords.com/interview/wilsonbluez
Smashwords author Page: https://www.smashwords.com/profile/view/wilsonbluez
Lesbian Authors Guild: http://lesbianauthorsguild.com
Ask David: http://askdavid.com/books/10892