WHATEVER HAPPENED TO AFFORDABLE HOUSING IN HARLEM? BUY THIS BOOK AND FIND OUT.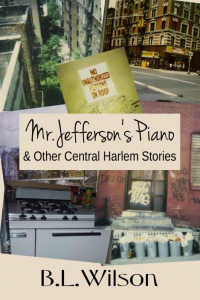 Mr. Jefferson's Piano & Other Central Harlem Stories is an anthology that weaves together a rich tapestry of 68 short stories, agency memos, and letters of events that take place during the late seventies, eighties, and nineties as seen through Melba Farris' eyes. Melba writes notes about everything work-related, chronicling her journey into the field of property management as she tries to help her less fortunate brothers and sisters with their housing woes.
She meets the oldest woman in Harlem in the title story Mr. Jefferson's Piano. 101-year-old Nora Jefferson and her kid sister, 96-year old Minnie, enchant her with the story of how their father acquired the baby grand that sits in the middle of their living room.
Melba becomes an exorcist when a routine complaint about a broken stove turns into removing an invisible devil from Ms. Johns' oven in The Devil Made Me Do It.
In Neisha, Melba writes a series of memos to her boss asking for help to improve the hazardous living conditions of seventeen-year-old Neisha, an independent minor, her two young children and a teenage brother—all of whom Neisha is responsible for since her mother died of AIDS.
These three tales represent some of the delightfully funny, sometimes perplexing, but intriguing personalities the author encountered during twenty-five years as a property manager performing her job duties in city-owned buildings.
The links are below for Mr. Jefferson's Piano & Other Central Harlem Stories:
Pre-order now for Labor Day. Release date 9/30/16.
The links are below for Mr. Jefferson's Piano & Other Central Harlem Stories:
Amazon Kindle: http://www.amazon.com/gp/product/B01KTTJYVM
Amazon Kindle UK: http://www.amazon.co.uk/gp/product/B01KTTJYVM
Amazon Kindle CA: http://www.amazon.ca/gp/product/B01KTTJYVM
Createspace: https://www.createspace.com/6465691
Smashwords: https://www.smashwords.com/books/view/659566
Book trailer: https://youtu.be/hiQj8jzE_3c
Connect with BL Wilson at these links:
Blog: http://wilsonbluez.com
Facebook Business Page: https://www.facebook.com/patchworkbluezpress
Goodreads: http://bit.ly/1BDmrjJ
Linked-in: http://linkd.in/1ui0iRu
Twitter: http://bit.ly/11fAPxR
Smashwords profile page: http://bit.ly/1sUKQYP
Amazon's Author Page: http://bit.ly/1tY3e27