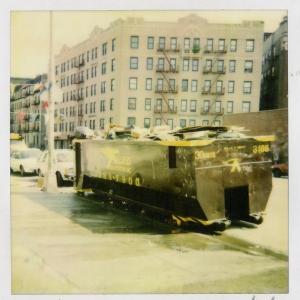 How would you describe yourself as a writer?
I'm a writer who's willing to take chances. Mr. Jefferson's Piano & Other Central Harlem Stories is anthology, but one could call it a workplace memoir too. It's organized a bit differently than most short story collections, having not only short stories, but I also used memos, journal entries, and letters to describe some of my experiences in the field.
I'm one of those people who writes on anything that's handy. The back of expense reports, the bottom of memos, appointment books, journals, field sheets, notes, and copies of repair orders. I used them all to express my feelings about what I saw or didn't understand on my job. I took hundreds of photographs too.
After thirty years, I had quite a collection of paperwork, notes, and photos about the jobs I held and the people I met or worked with on those jobs. Now I had to decide what to do with all of it. I could throw all of my stuff away and be done with it. Or I could use it in some way to tell people what working for the city in the field of housing management was like back in the seventies, eighties, and nineties. I decided to write a book …a fictionalized workplace memoir based on my own experiences. I changed my characters' names and altered situations somewhat so as to protect them and me.
Preorder NOW. Release date is 9/30/16.
For addition information on Mr. Jefferson's Piano & Other Central Harlem Stories, see the links below.
The links are below for Mr. Jefferson's Piano & Other Central Harlem Stories:
Amazon Kindle: http://www.amazon.com/gp/product/B01KTTJYVM
Amazon Kindle UK: http://www.amazon.co.uk/gp/product/B01KTTJYVM
Amazon Kindle CA: http://www.amazon.ca/gp/product/B01KTTJYVM
Createspace: https://www.createspace.com/6465691
Smashwords: https://www.smashwords.com/books/view/659566
Book trailer: https://youtu.be/hiQj8jzE_3c
Connect with BL Wilson at these links:
Blog: http://wilsonbluez.com
Facebook Business Page: https://www.facebook.com/patchworkbluezpress
Goodreads: http://bit.ly/1BDmrjJ
Linked-in: http://linkd.in/1ui0iRu
Twitter: http://bit.ly/11fAPxR
Smashwords profile page: http://bit.ly/1sUKQYP
Amazon's Author Page: http://bit.ly/1tY3e27