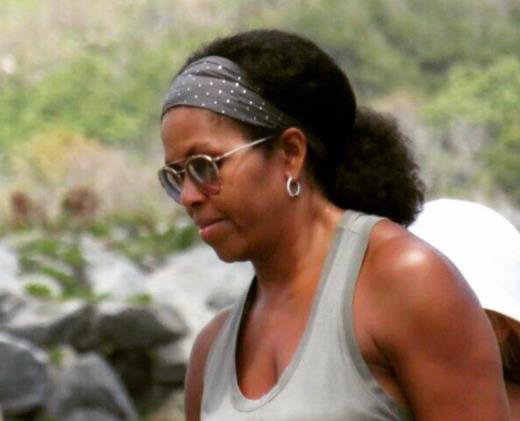 I just read some trolls' tweets about how Michelle Obama was disappointing Black women everywhere because her hair wasn't permed or relaxed. She was wearing it natural. At first, I thought, What? Since when did Black hairstyles become anybody's business but the wearer's? Or at least that's what I first thought until I started reading women's tweets and remembering way back when I first started wearing an Afro in college in 1966.
When I was a kid, there two huge things I hated about being a girl in the Baby Boomer generation. I absolutely hated wearing dresses. I hated getting my hair straightened, combed, and braided every day. My mother decided her girls, meaning my sister and me, should dress like little ladies every day. The more frilly or trimmed in lace, the better the dress was for "her girls."
My mother somehow managed to find socks trimmed in lace and hair ribbons to match our dresses. Oh, how I hated going to school looking like that. The only saving grace for me was that everybody's mother dressed her girls exactly like my mother did with us. My mother decided that her girls better wear neatly braided hair every day too. That included Saturdays but especially on Sundays. For church, her girls better look like little ladies or she wasn't doing her motherhood job correctly.
Back then, mothers were judged based upon how neat and well-kept and well-mannered her daughters looked and acted. A mother's sons could be nasty, ragtag, little dirty bums, but her daughters better be clean, neat dress-wearing little ladies with three neat braids… two braids in the back and one in the front. As her daughters grew, bangs replaced the braid in the front and a ponytail might replace the two braids in the back or sides.
To get my hair braided every day was always an enormous fight between me, my hair, and my mother's combing techniques. She'd make me sit on one of those backless step stools, facing away from her. She'd start by unbraiding my hair, usually untangling the two braids in the back first. I hated sleeping in hairnets, just as my sister did. While wearing a hairnet might have controlled my hair, it made my head sweat, but then, everything made my head sweat.
By the time my mother combed my hair in the morning, it was a sweaty, kinky mess. That meant she pulled the comb through my hair in one direction while I jerked, squirmed, and wiggled away from the comb in the opposite direction. She'd fuss at me to sit still, but I'd jerk away. Comb right. Jerk away left. Comb left. Jerk away right. Finally, as a last resort, she'd call in reinforcements. My father would stand at the door looking like a thundercloud ready to rain on my backside. I'd end up with a sore scalp, but I'd look like a little lady.
This ugly treatment of my crowning glory went on for years. Not by my mother anymore. I started getting my hair done on my own, straightening or rather paying a beautician to fry it, using plenty of grease, then running a red-hot combing iron through, then curling it with a red-hot curling iron. In college, I discovered a brand of hair cream mixed with lye that I could apply and straighten my hair without the cost of going to a beauty shop.
Then, one day on campus, I saw something wonderful and so beautiful. A Black woman I didn't know wore an Afro. I knew how she got it. I didn't know how she maintained it. As soon as my self-styled relaxed hair grew out, I found a barbershop that could cut my hair.
I went home for Christmas with my new hair and my mother exploded. She hated it with a passion. Calling me a pick-a-ninny, my mother said only unkempt women wore such hairstyles. She also said no daughter of hers should be caught dead wearing one. Since I lived in a dorm on campus that was 150 miles away, I could pretty much ignore her insults, which I did. My father, on the other hand, loved the shape and size of my neatly trimmed Afro. Within six months, he had one too. That really upset my mother. But my father, like me, kept his Afro for the next forty-plus years. I decided once I had an Afro, I would never go back to straightening, dyeing, or relaxing my hair and I never have.
For those women of color who think Michelle should go back to her relaxed and permed hairstyles; for those women who think that natural hair is unprofessional in the workplace or unnatural in the home, take a look in the mirror. Ask yourself what you looked like when you were a young Black girl before the world got to you and said you had to look like everybody else to be accepted. Then ask yourself if you are happy, truly happy looking like everybody else.
Thanks for reading.
BL Wilson
Connect with BL Wilson at these links:
Facebook Business page: https://www.facebook.com/patchworkbluezpress
Goodreads: http://bit.ly/1BDmrjJ
Linked-in: http://linkd.in/1ui0iRu
Twitter: http://bit.ly/11fAPxR
Amazon author page: http://amzn.to/1y7Ncar
Smashwords Author Page: http://bit.ly/1tY3e27
Ask David: http://askdavid.com/books/10892