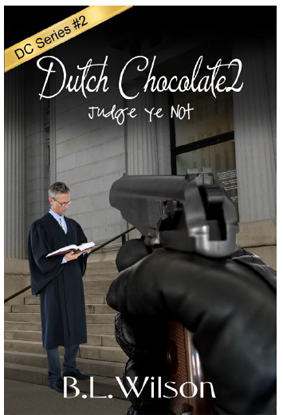 In Dutch Chocolate 2: Judge Ye Not, a series of complications plague Judge Roy MacKay's courtroom. He's the sitting judge on an important criminal case against one of the world's major drug kingpins, nicknamed El Jefe.  The judge and his courtroom staff have suffered through several bomb threats, armed guards and personal bodyguards, a courtroom filled with cameras, reporter wannabees, official reporters, and so many court
watchers, daily seating lotteries are conducted before court begins.
The jury finds El Jefe guilty on all counts. Now the judge must sentence the drug kingpin in eighteen days. Unfortunately, his daughter has been kidnapped to make sure he releases El Jefe. Judge MacKay hires Dutch to rescue his daughter.
Now Dutch is racing against the clock. She has less than eighteen days to find the judge's daughter and install her in a safe house before El Jefe's minions deliver her to a fate worse than death. Can Dutch rescue the young hostage and keep everyone she holds dear safe?
Dutch Chocolate 2: Judge Ye Not: Available now on Amazon and Smashwords.
ASIN: B08P2GMX6Q (Kindle Version $2.99)
ASIN: B08NZQCCM8 (Print Version $12.99)
Here are the links for: Dutch Chocolate 2: Judge Ye Not
Kindle: http://www.amazon.com/gp/product/B08P2GMX6Q
UK: http://www.amazon.co.uk/gp/product/B08P2GMX6Q
Print: http://www.amazon.co.uk/gp/product/B08NZQCCM8
Smashwords: https://www.smashwords.com/books/view/1055788
Book Trailer: https://youtu.be/QE918z8TRA0
Ask David: http://askdavid.com/books/10892
Connect with BL Wilson at these links:
Blog: https://wilsonbluez.com
FB Page: https://www.facebook.com/patchworkbluezpress
Goodreads: https://www.goodreads.com/author/show/10787497.B_L_Wilson
Twitter: http://twitter.com/wilsonbluez
Amazon Author Page: https://www.amazon.com/-/e/B002BOJ19O
Smashwords Interview: https://www.smashwords.com/interview/wilsonbluez
Smashwords profile page: https://www.smashwords.com/profile/view/wilsonbluez