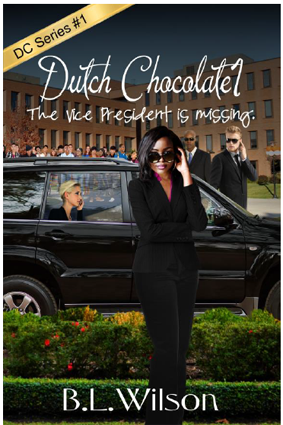 A chance meeting in a public-school bathroom rekindles old feelings in PI Yolanda "Dutch" Riggins for her former college friend Judith Kerson. Forbidden to Dutch twenty years ago, as Vice President of the United States, Judith is now completely taboo. Regardless, the two make a tentative dinner date. Fate intervenes and Judith goes missing. With one Secret Service person killed and another in critical condition, witnesses are scarce. Dutch and her crew take up the reins of the investigation.
Why would anyone abduct the Vice President? Is it for money, fame, or something more sinister? Whatever the reason, it is up to Dutch to find her old friend in the first novel of the action-packed, suspenseful Dutch Chocolate Series: Dutch Chocolate1: The Vice President is Missing.
Available now on Kindle and Smashwords!
ASIN: B083Z5XWMB (Kindle Version $2.99)
ISBN-13: 9781661886233 (Print Version $10.99)
ISBN-10: 166188623X (Print Version $10.99)
Here are the links for: Dutch Chocolate1: The Vice President is missing
Kindle USA: https://www.amazon.com/gp/product/B083Z5XWMB
Kindle UK: https://www.amazon.co.uk/gp/product/B083Z5XWMB
Kindle Print: https://www.amazon.com/gp/product/166188623X
Smashwords: https://www.smashwords.com/books/view/1000587
Book Trailer: https://youtu.be/g16HxtlL98A
Connect with BL Wilson at these links:
Blog: https://wilsonbluez.com
FB Page: https://www.facebook.com/patchworkbluezpress
Goodreads: https://www.goodreads.com/author/show/10787497.B_L_Wilson
Twitter: https://twitter.com/wilsonbluez
Amazon Author Page: https://www.amazon.com/-/e/B002BOJ19O
Smashwords Interview: https://www.smashwords.com/interview/wilsonbluez
Smashwords profile page: https://www.smashwords.com/profile/view/wilsonbluez