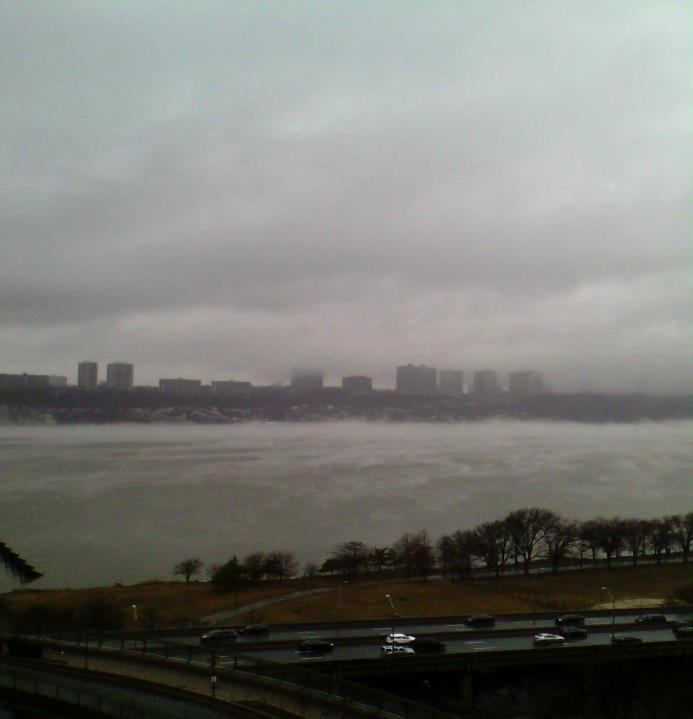 The picture above is a view of the Hudson River during a stormy day. The fog is partly covering the New Jersey shoreline near the Palisades. The road with the cars on it is the West Side Highway. It's one of the major highways in Manhattan that runs along a body of water called the Hudson. The other roadway that runs alongside a river is the FDR Drive on the eastside, running along the East River. The bridge located over the West Side Highway is one of the entrances to Riverbank State Park. When I look at this picture, I think that's how I feel. Sometimes, I'm sunless and kind of foggy, as if my brain is on permanent default. I get lost in the fog. There are no lights to help guide me to the light or a better day.
My sister died on December 12, 2017. She was two years older than I. We didn't speak daily. I'm not much of a caller. I never have been one to call first. If you call me and I'm in the mood, I will talk your ear off. My sister and I would talk on birthdays and winter holidays like Thanksgiving and Christmas. Occasionally, we might talk on New Year's Day too. Our discussions were usually about our families. She has or had two adult children and I have one. We'd compare notes about our kids, like what they were doing or why they were or weren't doing well. We'd talk about our jobs. She was an educator, a college professor who designed and taught courses about running a small business with an emphasis on using technology.
We'd talk about our health issues. She told me that she'd recently discovered she was a diabetic and swore me to secrecy about it. She didn't want to hear the lectures she was sure to receive from our mother. I agreed to keep her secret. That's what sisters do, right? I told her about my uterine fibroids and the lump I'd found on my breast. We
agreed not to tell our mother. My sister assured me it was benign. She mentioned how she'd had several removed on her breast and in her uterus. She was right. They were benign. I'd had several breast and uterine cancer scares over the years. I could always count on my big sister to talk me through them, as she'd been there first.
The six months after she died, were sheer hell for me. Friends were wonderful, but after a while, they zone out when I talk about my sister. I couldn't seem to shut up about her. I found myself thinking about her a lot. I wanted to call her to talk about something my granddaughter did or something I just discovered about my family. Then I remembered I couldn't make that call because nobody will be on the other end to answer it. I started crying at the oddest times about the strangest things. I was bawling my eyes out watching Barbara Bush's funeral. I'm no Republican. I've never liked the Bush family, junior or senior. Yet there I was crying about a woman I didn't particularly admire.
My family accepted my sister's death and moved on. They held a memorial service for my sister in a faraway state and buried her ashes there. I discovered her husband had a family cemetery behind a church his family built over hundred years ago. I refused to go to the service. I never thought of my sister as being particularly religious. I certainly didn't know her husband's family built a church or had a family plot. I also wasn't ready to say that final goodbye to my sister either. I'm still having difficulty understanding how my own family finds it so easy to say that final goodbye when I can't.
If I sound angry. I am.
If I sound lost. I am.
If I sound depressed. I am.
I'm also looking for better times.
I know things will get better.
I'll get through this stormy gray fogginess to the clear skies on the other side. It will just take me time.
Thanks for reading,
BL Wilson
Connect with BL Wilson at these links:
Blog: https://wilsonbluez.com
Facebook Business Page: https://www.facebook.com/patchworkbluezpress
Goodreads: http://bit.ly/1BDmrjJ
Linked-in: http://linkd.in/1ui0iRu
Twitter: http://bit.ly/11fAPxR
Smashwords profile page: http://bit.ly/1sUKQYP
Amazon's Author Page: http://amzn.to/1y7Ncar
Ask David: http://askdavid.com/books/10892