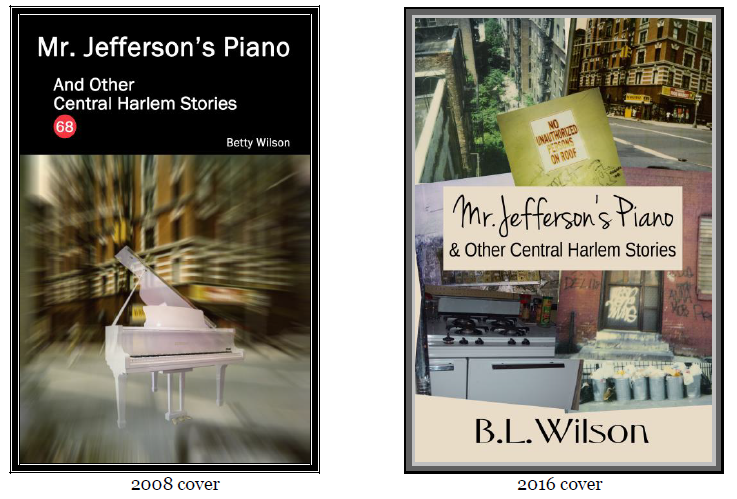 It isn't often in life we get a redo. Let me tell you about mine. The first edition cover of this book and its interior were a huge disappointment for me. Like a cavity in a sensitive tooth, I felt such pain at how my first book looked and read. At least one reviewer, some of my friends, and a few colleagues also noticed the obvious errors in spelling and punctuation in the book. Nobody was particularly crazy about the original cover artwork either.
I decided to show you that cover, but don't get confused as to which one to buy. They look totally different, don't they? The cover on the left is the old one. The colorful cover on the right is the current one. Having 26 other book covers and novels under my belt, I think it's the best one too! Anyway, the pain and embarrassment about my first book stayed with me. For eight long years, I wondered what I could do to change the way the book looked both inside and outside.
Back in 2008, I was a newbie to Amazon's Kindle. At the time, Create Space didn't exist. With a private publisher doing all the work for me, I didn't need to know anything about book publishing, marketing, or production. Hell, I was so happy that anybody wanted to publish my novel that I foolishly allowed my publisher to handle everything. I never asked them what they were doing. I didn't ask how to do anything or why the publisher did what she did. I didn't ask for passwords and codes so I could go online and learn for Mr. Jefferson's book dueling covers myself either. I trusted my publisher to a fault and that was my fault.
I didn't publish another book with them. I continued to write and I continued to wonder to do about that first edition. I checked with my union and they suggested I write to the publishers and ask them to remove the book from Amazon's sales page. I'd already asked Amazon, but they couldn't do it unless the publisher who had all the passwords and access codes requested it. I sent emails to the publisher, haunted their websites and other publisher sites, all to no avail. I learned later they had gone out of business. Now I was stuck with a book I'd written that needed severe editing and an eye-catching cover.
I tried a bunch of different editors through the years but none of them seemed quite right for me or my subject matter. Fast-forward six years. In 2014, I finally found an editor who understood my needs. She connected me with a book cover artist that created attention-getting covers and book trailers. While all 26 books that I published with her have been romance novels, my gut said she'd be perfect choice to edit my memoirs too. Time will tell if my revised second edition sells. Once again, my gut says that it will.
I hope I've made you curious enough to buy my workplace memoir. Preorder it now; release date is 9/30/16.
Thanks for reading this.
BL Wilson
The links are below for Mr. Jefferson's Piano & Other Central Harlem Stories:
Amazon Kindle: http://www.amazon.com/gp/product/B01KTTJYVM
Amazon Kindle UK: http://www.amazon.co.uk/gp/product/B01KTTJYVM
Amazon Kindle CA: http://www.amazon.ca/gp/product/B01KTTJYVM
Createspace: https://www.createspace.com/6465691
Smashwords: https://www.smashwords.com/books/view/659566
Book trailer: https://youtu.be/hiQj8jzE_3c
Connect with BL Wilson at these links:
Blog: http://wilsonbluez.com
Facebook Business Page: https://www.facebook.com/patchworkbluezpress
Goodreads: http://bit.ly/1BDmrjJ
Linked-in: http://linkd.in/1ui0iRu
Twitter: http://bit.ly/11fAPxR
Smashwords profile page: http://bit.ly/1sUKQYP
Amazon's Author Page: http://bit.ly/1tY3e27