Tyson, a sister's love be limitless is a fictional whodunit written in the voice of a 27-year-old, southern "colored" woman, Leonia Gillette. She and her big brother, Tyson, come north to escape a drunken father who tried to rape her. They settle in Harlem in 1927 during the Harlem Renaissance and just before the Great Depression.
In 1932, somebody castrates, then murders Tyson in a Harlem alleyway, supposedly as revenge for his unpaid gambling debts. Leonia doesn't believe the police report and decides to investigate her brother's death. Along the way to uncovering Tyson's killer, Leonia introduces us to a cast of characters–good, bad, and very bad– found only in the Harlem of the thirties.
The result is a novel called, TYSON, a sister's love be limitless which is now a finalist in IAN book of the year for fiction. Available on Amazon.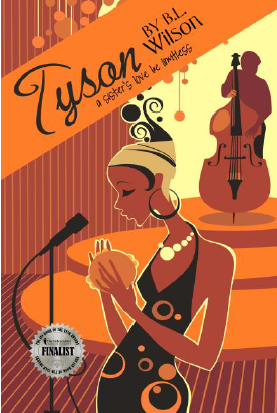 ASIN: B0795Y11HG (Kindle Version $2.99)
ASIN: 1983996637 (Print Version $13.99)
Here are the links for: TYSON, a sister's love be limitless:
Kindle: http://www.amazon.com/gp/product/B0795Y11HG
Kindle Print: http://www.amazon.com/gp/product/1983996637
Kindle UK: http://www.amazon.co.uk/gp/product/B0795Y11HG
Smashwords: https://www.smashwords.com/books/view/782272
Book Trailer: https://youtu.be/PlGVVcusaz8
Book Trailer: https://youtu.be/FB7zA8kIeIg
Ask David: http://askdavid.com/reviews/book/lesbian-murder-mystery/15796
Connect with BL Wilson at these links:
Blog: https://wilsonbluez.com
Facebook Business Page: https://www.facebook.com/patchworkbluezpress
Goodreads: http://bit.ly/1BDmrjJ
Twitter: http://bit.ly/11fAPxR
Smashwords profile page: http://bit.ly/1sUKQYP
Amazon's Author Page: http://bit.ly/1tY3e27
IAN: Author web page: http://bit.ly/11bhtdz