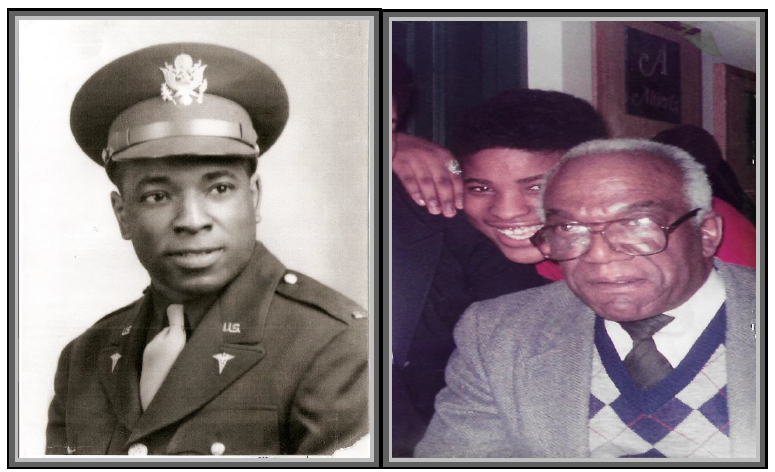 The photos above are of my family. The photo on the left is my father in his army uniform 1943. He was a medical officer trained as a paratrooper. The photo on the right is my uncle who also served in the army. He went overseas and served in Germany during World War II.
My father joined the paratroopers at a time when America's military was segregated. Most Negro soldiers were relegated to being entertainers, cooks or monitoring supplies or digging latrines. Back then, the military had to be convinced that Negroes troops wouldn't abandon their commands and runaway under fire. Almost convinced, the army decided to create a Negro unit of paratroopers.
Since my father was a medical doctor with several degrees, the army made him an officer. Had he not broken an ankle during one of his training jumps, he would have been one of the first Negro officers sent overseas to fight in the European theater. Once his ankle healed, while still in the paratroopers my father became a smoke jumper. He helped put forest fires out all over the Southwest United States. Years later, I met some of my father's old unit. They called themselves the Triple Nickels or 555's.
The one thing my father and my uncle had in common, they never spoke about in front of us kids. It was the War against Hitler, also known as WW II. I remember the one time my uncle tried to talk about the war, he mentioned killing German soldiers. My father quickly interrupted my uncle and sent us kids out of the room. Being the curious children, we snuck back to eavesdrop at the doorway. My father lectured my uncle about not saying certain things in front of his kids.
I was fascinated by the idea that my very own uncle might have killed somebody in a faraway land and lived to tell us about it. Every time I thought about what my uncle said he'd done during the war; it boggled my mind. Especially since we kids weren't allowed to speak about the war or ask questions about it. I wasn't afraid of my uncle because he might have killed somebody. Instead, I gained a new respect for my uncle after overhearing one of his secrets. I wondered if my father had secrets like that too. I never did find out.
Both my father and my uncle are gone now. I wrote this blog to honor them on Veteran's Day and thank them for their service.
KUDOS TO ALL OF OUR TROOPS ON THIS VETERAN'S DAY. WE HATE THAT YOU HAVE TO FIGHT IN WARS BUT WE LOVE YOU FOR DEFENDING OUR COUNTRY.
Thanks to all you vets for your service.
BL Wilson